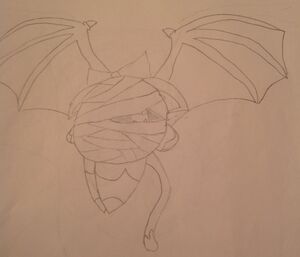 Kalendero appears in the Bad End of Yume and is the witch form of Chichi. 
Kalendero is a neon blue witch-puffball with a cat tail and cat ears. She has a dark light blue bow on her head and pink and light red dragon wings. Kalendero has shoes similar to Gretchen's except hers have blues. The top is distorted light blue, the middle is darkest blue and the bottom slippers are light blue. She also wears tape around her body. Her eyes are bright green.
Personality 
Edit
Storyline
Edit
See: Bad End
Ad blocker interference detected!
Wikia is a free-to-use site that makes money from advertising. We have a modified experience for viewers using ad blockers

Wikia is not accessible if you've made further modifications. Remove the custom ad blocker rule(s) and the page will load as expected.